August 9, 2016 | Ted Marks

Our latest scores just received from Wine Enthusiast Magazine. These will be in the Nov. issue.
89 Atwater 2015 Dry Rosé of Cabernet Franc
89 Atwater 2014 Dry Riesling
---
The New York Wine & Food Classic winners will be announced tomorrow (Aug 10) that include the Governor's Cup and Winery of the Year. We will be awaiting the results to share with you.
2016 New York Wine & Food Classic, a professional wine competition open to all wineries in New York State, scheduled for August 8 – 10 at the Watkins Glen Harbor Hotel in the Finger Lakes.
The New York Wine & Food Classic has become known as "The Oscars" of the New York wine industry. The 21 judges include wine writers, wine educators, retailers, restaurateurs and other experts from around the State, country, and world. All wines are judged "blind" on their own merits, with the "Governor's Cup" and other awards made public as soon as possible after the competition ends.
UPDATE:
DOUBLE GOLD
2014 Dry Riesling
2015 Dry Rosé of Cab Franc
SILVER
2014 Chardonnay
2013 Big Blend
2014 Fahrenheit
---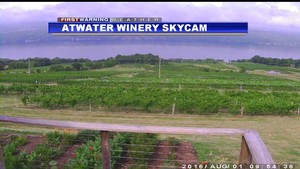 There has been a lot of discussion about the lack of rain in the FLX, and yes it will probably mean a smaller crop, meaning weight, but hopefully a richer one. We at Atwater are OK. The vines are amazingly smart and are turning their leaves away from the sun to preserve evaporation.

We are again hearing that it's going to rain, maybe tomorrow, maybe through Saturday. We do need a nice steady day of rain. This will catch and save our grapes right on the "cusp" as they say.

Have a good week all - Ted
​
Comments
Commenting has been turned off.