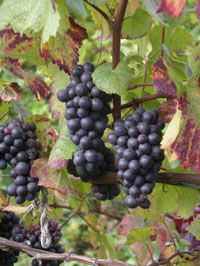 Origin: Burgundy region of France
New York Introduction: First planted commercially by Konstantin Frank at Gold Seal in the 1950's.
Atwater Introduction: 2000
Acreage: Atwater Estate Vineyards: 1.5 acres/ Total New York: 235 acres
Taste and Aroma Characteristics: Hints of strawberries, earth, raspberries, mushrooms and herbs. Older wines tend to have a velvety finish. Bouquet can become exceedingly rich, powerful and complex with age. New York and especially Finger Lakes Pinot Noir have higher levels of resveratrol (which fights heart disease and cancer) than those from other parts of the world.
How we use it: After growing this elusive variety for a couple of years now, we finally understand the concept of "Pinot Envy" Such a challenge to grow and there never seems to be enough, but what a result after all the tending to! We would love to produce a varietal every year of this delicate grape, but again, each vintage changes depending on the bounty of the harvest. More often than not we make small batches of the variety and every other year we have used a minute amount in our traditional blend of sparkling wine for our Cuvee Brut.