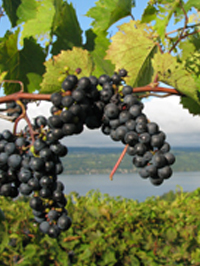 Origin: Cross of Gold Riesling and riparia/rupestris hybrid. Vinified by Eugene Kuhlmann of Alsace.
New York Introduction: Uncertain
Atwater Introduction: 1973
Acreage: Atwater Estate Vineyard: 3.8 acres/ Total New York: 102 acres
Taste and Aroma Characteristics: Fruity aroma reminiscent of strawberries and raspberries. Light to medium-bodied with a soft, pleasant finish. Marechal Foch's lower acidity, fruity aroma and flavor make it an ideal blending wine for other more herbaceous and acidic hybrid varieties.
How we use it: The miracle red hybrid – loved by birds and man alike, this grape is the MAIN reason our Stone Bridge Red is the best hybrid blend in the Finger Lakes.