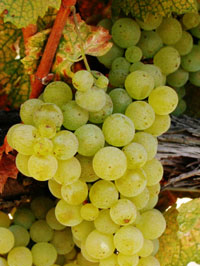 Origin: Variety believed to have been developed in the Burgundy region of France, chardonnay-for-webwhere it has been grown for centuries.
NY Introduction: Successfully cultivated by Charles Fournier and Konstantin Frank in the late 1950's at Gold Seal Vineyards in the Finger Lakes region.
Atwater Introduction: 1988
Acreage: Atwater Estate Vineyards: 6.4 acres/ Total New York: 1,103 acres
Taste Characteristics: Produces medium to full-bodied wines, frequently with rich, complex bouquet and flavor. Flavors can be hints of pineapple, apple, honey, pear, melon and citrus. Depending on manner of vinification may have nutty, buttery, vanilla, toasty, herbal and/or oaky flavors as well.
How we use it: We make Chardonnay with Chardonnay! Wow! What a novel idea! No really, we do have quite a bit of it, so we get creative with it every year. So far we've made several varietals, ranging in depths of oakiness, fermented it in stainless steel and occasionally have added it to our Stone Bridge White. We've created a classic sparkling using the traditional Champagne blend of Chard and Pinot, and in 2005, we created a divine Chardonnay Ice Wine. Almost a commodity, this grape is so versatile around the world, we love pushing it's versatility here at Atwater. Experiments often produce the best wine!!