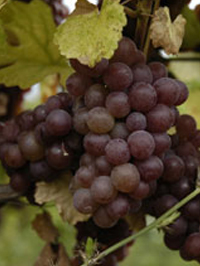 Origin: The Italian Tyrol (northernmost part of Italy)
New York Introduction: First grown commercially by Konstantin Frank at Gold Seal in the mid-1950's.
Atwater Introduction: 1988
Acreage: Atwater Estate Vineyards: 2.8 acres/ Total New York: 104 acres
Taste and Aroma Characteristics: Perfumey, spicy nose that resembles tropical fruit or highly aromatic flowers. Components of aroma carry into flavor, creating rich flavorful wines with a spicy finish. Light to medium bodied in weight, the wines tend to be refreshing and crisp.
How we use it: Gewürz is powerful on this site, and we produce drier style examples of this beautiful variety. Compared to the Gewürztraminer's of the Alsace region, the heady aromas of our Gewürz will almost knock you down, and we like being unforgettable.